Posted by sibelhodge on Friday, December 30, 2011
Under: Books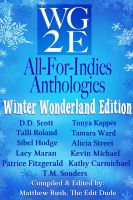 I'm super excited to announce the
WG2E
All For Indies first anthology is out now! The Winter Wonderland collaboration is a fab collection of authors that will make you think of winter in a completely new way...
Book Description:
In this debut launch of The WG2E All-For-Indies Anthologies, you're treated to a terrific, one-of-a-kind approach to the anthology concept.
You'll get a variety of genres all packaged together as a wonderful way to discover some of today's hottest new authors! And..it's a fun combination of story-lengths, from just a couple of pages to novella-length too!
Plus, each WG2E Anthology is based on a different theme.
In this WG2E Winter Wonderland Anthology, you're getting stories that yes, have a Winter Wonderland element, but definitely not in the average way.
For example:
"What's goin' on underneath all that snow?" for D. D. Scott's A CUT ABOVE CRAZY
"More than people wear goose down parkas in Winter" for Tonya Kappes BEAD OF DOUBT
"There's nothing like a sauna to thaw a cold spell" for Talli Roland's MISTLETOE AND THE FIVE-YEAR ITCH
"An Ice Queen can be much more than a very cold spouse" for Tamara Ward's JADE O'REILLY AND THE ICE QUEEN
"The flavors of Winter...as in Winter Green Mint, Anyone?" for Sibel Hodge's THE S-WORD AND THE LADY GARDEN
"Not only reindeer dance in the snow...unicorns do too" for Alicia Street's SNOW DANCE
"Breaking News: The All-Things Holidays Edition" for Lacy Maran & Kevin Michael's NOTHING IS SACRED COMEDY'S GUIDE TO THE HOLIDAYS
"More than the Earth dies in Winter" for Patrice Fitzgerald's TILL DEATH DO US PART
"There's ice on the tracks, but not the kind you might think..." for Kathy Carmichael's MAYHEM ON THE WINTERLAND EXPRESS
"Not everyone loves pumpkin pie" for T.M. Souder's DASHING THROUGH THE SNOW
About the Authors:
All the authors in the WG2E All-For-Indies Anthologies are regular contributors to The WG2E site.
At The WG2E, it's all about writers helping writers reach readers with great books for great prices.
Praise for The WG2E All-For-Indies Anthologies:
"Wow! What a list of awesome authors and fabulous story concepts! It is so much fun to read each one...can't wait for the next one!"--- Reader Ann
"What a great idea, WG2E! I love being able to read several different genres in one collection but with a central theme connecting them. And it's a terrific way to find new authors!" --- Sab
The Anthology is available from Amazon.com, Amazon.co.uk, and Smashwords.
Happy New Year!
Sibel XX
In : Books
Tags:
wg2e "winter wonderland anthology" "indie anthologies"

Tweet
​
blog comments powered by

Disqus