I'm doing something a bit different this week for Sample Sunday. You can read a fun excerpt from my romantic comedy, Fourteen Days Later, and discover Atila's secret recipe how to make a Chocolate Orgasm! This is the way to any chocolate-lover's heart. Guys - I know you'll want to give your girlfriend/wife one of these fab Orgasms! And girls - you could just keep it to yourself to have your own secret Orgasm!
After a hearty breakfast, I filled Ayshe in on the details of last night. We huddled together in the kitchen so that the boys couldn't overhear us.
'So I've got a date…maybe. I guess I'll just have to see if he calls me.'
'See, I knew this challenge thing would work!'
'So, does a date count as a challenge, then?' I asked.
She furrowed her brow for a minute, deep in thought. 'Yes.'
'Well, tonight I've been invited to an art exhibition, and that can count as one of my challenges. I've never done that before, but I've got no one to go with. Please say you'll come.'
'Oh, no! I can't tonight. We've got to go and see the manager of the Priory. There's been some kind of misunderstanding about the colour scheme for our wedding reception. We ordered lilac and cream for the ribbons and table decorations, but the ones which have come in are puce. I haven't got a clue what sort of colour puce is – although it sounds utterly revolting – so we've got go over and see if they'll do.' She pulled a disgusted face.
'Oh.' I sighed. I could hardly go on my own.
'What about Kalem? He's into arty things. There might be a spot of woodcarving to get him excited.'
'No, it's OK, don't worry. I'll have to think of something else for today's challenge,' I said.
Kalem chose that moment to saunter into the kitchen and deposit his plate in the sink. 'You girls talking about me again?'
'Helen needs someone to go with her to an art exhibition tonight, and we've got to see this woman about our puce decorations.'
He shrugged. 'Yeah, I'll go.'
'What about Emine, won't she mind?' I glanced at him.
Emine was Kalem's rich, Turkish Cypriot girlfriend who was always dragging him off to dinner parties with her horsey friends and trying to get him to eat nouvelle cuisine. She carried around a whole chemist's supply of Esteé Lauder-this and Láncome-that, all stuffed into a massive handbag, and refused to leave the house without full make-up on and far too much dark lip-liner, which gave her an odd-looking trout-pout. Not that I'm being bitchy, of course.
'No,' he replied.
'I think they've had a row,' Ayshe whispered to me.
'Whatever,' he muttered, wandering back to the lounge.
'Right, that's settled. Oh, and I've thought up a challenge for tomorrow too,' Ayshe said.
Great. 'Oh, excellent' When she didn't enlighten me, I gazed at her. 'Well?'
'I'll tell you tomorrow.' She smiled.
'Now breakfast is out the way, I'm going to start on one of my new chocolate recipes. I've realized that the only way to be taken seriously as a chef is to write a book,' Atila said, jumping to his feet and busying himself in the kitchen. At six foot two he had difficulty leaning over the beech kitchen worktop and had to jack-knife over it. His floppy hairdo kept falling into his eyes. He pushed it away, totally engrossed in his task.
'Goody, I love chocolate,' I said.
'I've been thinking of a title for it. You know how sex sells everything these days? All this Naked Chef stuff and Nigella Lawson sexing it up in the kitchen. I've been thinking about calling it Foreplay in the Kitchen, Sex in the Diningroom. What do you think?' He beamed at us.
'Your mum won't like it,' Ayshe said. 'She even turns the TV off if they mention the word "sex".'
'Why not? We're the second generation Turkish Cypriots with a London influence: an infusion of both cultures. Times are changing and we have to keep up with them.'
'I'd buy it,' I replied.
Ayshe planted a kiss on Atila's lips and gazed up at him. I felt a burst of envy and looked away. They were so well suited – both bubbly, happy people. They'd met at the opening night of his new restaurant. Ayshe hadn't been impressed when we'd had to wait two hours for our dinner to arrive, and even less impressed when she'd noticed a dirty finger mark on the edge of her plate. Unfortunately, the inexperienced waitress repeated Atila's response to Ayshe's complaint word-for-word, which was something like: 'You can tell the fussy cow that it doesn't come out of an effing tin. She can bloody well inspect the kitchen for herself if she wants to.' Which Ayshe did, storming off into the kitchen to confront the rude little man. After she'd been suitably impressed by his culinary skills and his art of persuasion, a quick courtship followed. They got engaged and moved in together shortly afterwards. He was normally very calm and chilled out, although I had witnessed him in the restaurant, barking orders and swearing constantly. It was all very like Gordon Ramsey. Strange how all these chefs turned into Jekyll and Hyde characters the minute they stepped foot into a kitchen.
An hour later, my stomach was grumbling as a luscious aroma wafted from the huge Range which took up most of the tightly-packed kitchen.
'Da-dah!' Atila presented us with a round, chocolatey, doughnut-looking thing on a plate. It had a slightly hard shell and a manicured dollop of cream was gently melting on the side.
'Looks great.' I sniffed it.

'Wait until you cut into it.' He eyed us.

I stuck my spoon in and a rich dark chocolate sauce oozed out.

'Ooh, that's gorge…' Ayshe said.

'Mmm...' I took a bite. 'Awww...' Then another. 'That is fab.' I licked the spoon dry, savouring the experience.

Kalem ate his in two minutes flat. 'What's all the fuss about? It's just chocolate.'

'You can't get in the way of a woman and her chocolate, though.' Ayshe gulped down another mouthful.

Atila sat on the arm of the sofa, his eyes twinkling with glee. 'What should I call it, then?' He looked around the room, waiting for suggestions.

'Well, if it was mine, I think I'd have to call it "a chocolate orgasm",' I said, breaking into a post-orgasm type of grin, polishing off every last morsel on my plate and then looking to see if I could nick some of Ayshe's. 'Now that is what women really want.'

'Yes!' Atila slammed the palm of his hand on his knee. 'That's it, that's it. Perfect for a sexy cookbook.' He grabbed my face and planted a kiss on my cheek. 'Anyone for another?'

'I don't know. Are we talking about real ones or chocolate ones?' I asked.

Copyright © Sibel Hodge 2009
Fourteen Days Later is available in paperback and all ebook formats. For more details, please check out
my Books page.
And here's Atila's recipe for a Chocolate Orgasm!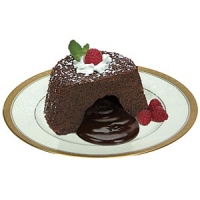 Ingredients:
4 squares of chocolate (I love Galaxy for this!)
1/2 of cup butter
1 cup of icing sugar
2 eggs
2 egg yolks
6 tbsp flour

How to have an Orgasm!
Preheat the to 425F.
Butter 4 custard or souffle dishes and put on a baking tray.
Microwave the chocolate and butter in a large bowl on high for 1 minute or until the butter is melted.
Stir with whisk until chocolate is completely melted.
Stir in sugar until well blended.
Whisk in the egg and egg yolks.
Stir in the flour.
Divide batter between the prepared dishes.
Bake for 13 to 14 minutes or until the sides are firm but centers are soft. Let them stand for 1 minute.
Carefully run a knife around the cakes to loosen from the moulds. Turn the cakes upside down onto a plate.
Top with some scrummy whipped cream and strawberrys and serve immediately for an instant Chocolate Orgasm!
Happy Orgasmic Sunday!
And if you're looking for some more great reads and recipes, check out these other blogs...
In : Books
Tags:
"sample sunday cookoff" recipe chocolate fourteen days later cooking

Tweet
​
blog comments powered by

Disqus