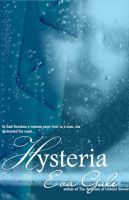 I'm doing two Indie Books Reading Challenges for 2011 - the ABC Indie Fiction Challenge, and the I Heart Indie Books Reading Challenge (more details below). In helping to spread the word about the wonderful selection of Indie books out there, I'm going to be blogging about my progress and reviews.
My 27th review is of Hysteria - a historical erotic romance.
About Hysteria
England, 1860, and by her mother's orders Constance is in treatment for Hysteria. She never complains. Until a new doctor takes over and threatens the only pleasure she knows in life. 18 and over please.

Review
First of all, when I read this, I wasn't aware of the "treatments" for hysteria given to women in the 19th Century, and it's pretty creepy and freaky to think this actually went on!
I'm not in to erotic romance really but I have to admit the writing sucked me in. It's very eloquently written and pretty powerful. But I was disappointed with the ending which happened too quickly and gave no real reason or explanation for it. I think the short story could've been expanded on to make for a more fulfilling ending.
The ABC Indie Fiction Challenge...

In order to join in, you must read 24 novels in 2011 by Indie authors. One of the key rules is that each story must be written by a different author, and the first letter of the authors' surnames must begin with a different letter.
For more details, a suggested reading list, and to sign up, head on over to quillsandsebras:
http://quillsandzebras.wordpress.com/2010/12/10/abc-indie-fiction-challenge
The I Heart Indie Books Reading Challenge...




I've come across another fantastic reading challenge for all you lovers of fiction out there. The I Heart Indie Books Reading Challenge is easy and low-key. All you have to do is read between 1 - 30 books in 2011 in any genre.



For more details about the challenge, check out...

http://indieparanormalbooksreviews.blogspot.com/2010/12/i-heart-indie-books-reading-challenge.html

Both readers and authors are encouraged to participate.

If you need a suggested reading list

,

check out my Ebook store for some fab Indie Authors.




My Challenge count:

ABC Challenge:


A (Atkinson)


C (Chen)




C (Comley)


D (Desforges)
E (Evans)


F (Fasano)




F (Fairchild)


G (Gale)
G (Green)
H (Hohenstein)
H (Halliday)
J (Juba)
K (Kirby)
K (Kevin)
L (Lieu)
L (Lim)
M (Morimer)
M (Maarten)
P (Pierce)
S (Smith)


S (Sullivan)


S (Scott)
T (Tyrpak)


T (Tirraoro)


T (Tyley)
T (Taylor)
Z (Zeltserman)




IHIB Challenge: 27

Happy Indie Reading!



Sibel xx
In : Book Reviews
Tags:
"eva gale" reviews ebooks

Tweet
​
blog comments powered by

Disqus