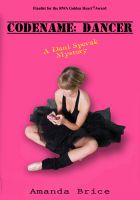 I'd like to welcome Amanda Brice to my blog today. Amanda has just released her YA mystery novel Codename: Dancer. Exciting stuff!
About Amanda
As a little girl, Amanda Brice dreamed of being either a ballerina or the author of a mystery series featuring a cool crime-solving chick named Nancy Flew, but her father urged her to "do something practical," so she went to law school and spent her days writing briefs and pleadings instead of fiction.
But dance and writing have remained a part of her life. Amanda was a member of the ballroom dance team at Duke University, and continues this interest by her obsession with Dancing with the Stars, so it was only natural for her to set a teen mystery series at a dance school.
Amanda is the Vice President of Washington Romance Writers, and is a two-time finalist for Romance Writers of America's Golden Heart® Award. She blogs every other Wednesday with the
Fictionistas
and every other Friday with
Killer Fiction
.
She is also a popular conference presenter, speaking on basic copyright and trademark law for writers. You can learn more about Amanda and her books at
www.amandabrice.net
.
In her spare time, Amanda enjoys dancing, reading, cooking, traveling, and obsessing over whether Duke will beat Carolina in basketball. Go Devils!
Congrats on your fab accolades! What's your favourite part of writing a novel?
Plotting! I know, that makes me weird. But I can't write unless I have the plot worked out ahead of time. Some authors like to be surprised, but if I do that it turns out to be a whole lot of random nonsense. But to me, the plotting stage is a lot of fun, because the possibilities are endless.
I'm the complete opposite - a fly by the seat of my knickers kind of girl! Are there any aspects of writing you struggle with?
Killing my darlings. Obviously I know that revision is an important part of the process, and I have to be ready to chop off whole passages if need be, but it still hurts. So I keep a folder on my computer where I place the scenes and lines I have edited out. You never know when you might be able to recycle them into something new!
Absolutely! Waste not want not! How long does it take to complete a novel?
It really depends. Some books take much longer than others to write. And there's a big difference between a first draft and when the novel is done. I wrote the first draft of Codename: Dancer in just over 6 weeks, but it took substantially longer than that to revise. I don't actually know how long it took, because I did several revisions over the course of a few years. I didn't revise non-stop or anything. I'd revise intently for a few weeks and then wouldn't come back to it for several months…and possibly not for a full year or more. So I really have no clue how long it took! Maybe I should pay better attention this time. LOL
Did you query agents or traditional publishers before self-publishing?
I actually had an agent for two years or so before we parted ways. She worked hard to shop two of my YA manuscripts and a legal non-fiction. They'd made the submissions rounds to all the major houses, and had always gotten excellent feedback (they loved the writing, the voice, the premise, the characters), but ultimately the editors passed.
Know the feeling! How did you handle the rejection letters?
Lots of chocolate and venting to my critique partners.
It was tough at first, but eventually it just sort of became a part of the process. Admittedly, I had an agent who handled it, and she was actually forwarding me the rejection emails, so that probably took some of the sting out of it. But even though I became hardened to it, it still really stung when I got the rejection for a book that I'd done two rounds of revisions for a particular house. I'd been working closely with the editor, and had even undergone two conference calls with her during which we'd brainstormed for nearly an hour each time, so it really had felt like it was going to click. And then nada.
Yay for chocolate and Indie Publishing! What factors influenced your decision to self-publish?
I won't lie. I'd never intended to go this route, and it was only in the past few months that it actually looked like an attractive option.
When Codename was on the submission circuit, it got great feedback from Big Six editors. They loved the premise, the writing, the voice…but they didn't know where to place it. The YA editors said it was Middle Grade. The Middle Grade editors said it was YA. And they're both right – I'd actually written it to appeal to that large segment of readers in the middle. Too old for Middle Grade, but not quite ready for some of the more mature emotional themes of older YA.
It was deemed "too niche" but that's the beauty of indie publishing. I don't have to have the huge mass market sales that a NY publisher looks for (although it would be nice!!!) in order to turn a profit, so I can market myself to that niche.
Do you think your books would translate well to the big screen? If so, who would you like to see play your lead characters?

Funny you should ask that! Actually, back when Codename was being shopped by my former agent, she'd managed to get it in the hands of not only publishing houses but also a Disney Channel producer who'd been hooked by the premise. For a short time there, it was actually being considered as a made-for-TV movie, which would have been super cool! But then the writers' strike happened, and that producer got fired, and well, that was the end of that!
As for who I'd like to see play my leads, I'm kind of superstitious. And just conceited enough to think that maybe it might still happen, so I wouldn't want to jinx it in any way by stating a preference. If there are any producers out there, talk to me! LOL
Do you write in just one genre?
No. I started off writing chick lit, and wrote a spectacularly bad manuscript that shall never see the light of day. Then a teen dancer started "talking to me" and wouldn't shut up unless I told her story, so I switched to YA. It was the YA manuscripts that got me the agent, the editorial attention, and the Golden Heart nominations. And it's one of them that I've just released.
But while I was on maternity leave last year, I got an idea for a cozy mystery that I just had to write. Only problem is that I'm a YA author. So the solution was to broaden my horizons. I've had some short stories published in anthologies for adults, so I've decided to hopefully pursue a readership in both genres. We'll see!
Why not? Do you use Social Media for marketing your novels?
Am I going to be shunned if I admit to an irrational fear of Twitter? I know I'm going to have to get over that, but every time I see the hashtags and the RTs and whatever, my eyes gloss over and I run away scared. One of these days I'm going to actually sit down and check out the excellent series of "Master Tweeting for Authors" lectures that Joan Swan wrote for the
Ruby Slippered Sisterhood.
Twitterphobia? Get out there, girl, and start tweeting! If you weren't writing, what would be your favourite job?
I'd love to combine my writing interest with my legal career and get into agenting. I definitely think there will still be a role for agents, even in the changing publishing landscape, but I think agents will have to adapt. They'll become more like business managers and subsidiary rights will become more important.
I think you're absolutely right. Agents who can adapt in the changing publishing world will be the ones to survive! What are you reading at the moment?
I just started reading The Sari Shop Widow by Shobhan Bantwal, and like others of her books I've read, it definitely delivers! I'm only two chapters in, but I'm loving it. And the cover is simply gorgeous.
I recently read Accomplished in Murder by Dara England. If you like historical mysteries, this novella is perfect for you. I loved her heroine, Drucilla. And how can you not like a book where the heroine is describe as being "up to her bustle" in trouble?
I can totally relate to that. If I had a bustle, I'd be up to it in trouble, too! Do you write full time? If not, how do you balance writing with another job?
Writing full time sounds like it would be great, but it's unlikely to ever be in the cards for me. But that's ok, because I actually like being a lawyer. (Most of the time, at least. LOL) I'm an intellectual property attorney for a large U.S. federal government agency. I'm fortunate because my job with the government allows me to maintain relatively flexible hours. I just have to put in 80 hours every two weeks, but they don't care when those hours are, as long as a decent percentage of them overlap with normal 9-to-5 hours. So if I frontload my work, I can take a day off every week to stay home and write.
I used to be much better about that, back before I had my daughter. But now that the first novel is out and I'm hard at work on the second, I'm definitely going to be taking advantage of this flexibility much more often!
Sounds like a great balance! Have you ever used a friend or foe as a character?
I base aspects of my characters on people I know, but they're always an amalgamation of people. The only time I've actually created characters based entirely on friends or foes was that first chick lit manuscript I wrote way back when…you know, the one that shall never see the light of day! It actually wasn't that bad. The characters were pretty good, actually, and there were some great zingers. But there was no plot. None. Which would be fine if it was a character-driven literary fiction novel, but it wasn't. I had these quirky characters doing absolutely nothing. Sort of like Seinfeld. LOL
Which five people would you invite for dinner?
Ooh, fun question! Living or dead? If I could invite dead people, I'd have to include Jane Austen as a dinner guest. Could you imagine the snarky social commentary she'd dish out?
As for the others, I'm going to go with Barack Obama, Bill Clinton, Tina Fey, and my mom. I think that would be a pretty interesting discussion.
I'd definitely go for Barack, too, he looks pretty good in a DJ!
About Codename:Dancer
Aspiring ballerina Dani Spevak is thrilled when hit TV show Teen Celebrity Dance Off comes to the campus of her performing arts boarding school. She trades the barre for the ballroom and gets set to cha-cha-cha to stardom with Hollywood wonderboy Nick Galliano.
At first their partnership is awkward, because Dani is in awe of her longtime teen idol crush. But soon their chemistry is heating up the dance floor and the attraction moves into real life.
Her excitement is short-lived, because someone wants her off the show. Bombs, poisoning, arson… Will Dani's 15 minutes of fame be over before she reaches age 15? Dani and her friends are suddenly at the center of some serious sabotage. And if she doesn't find out who is behind it, her next pirouette could be her last.
It's like Nancy Drew in toe shoes in this light-hearted tween mystery, a finalist for Romance Writers of America's Golden Heart® Award for Best Young Adult Romance.
You've hooked me! This is now on my TBR list!

Thanks for your time Amanda, and good luck with the novel!
Happy Reading!
Sibel XX
In : Author Interviews
Tags:
"amanda brice" interviews ebooks books

Tweet
​
blog comments powered by

Disqus