Posted by sibelhodge on Saturday, December 17, 2011
Under: Books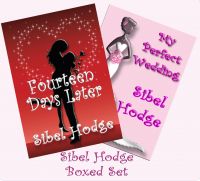 Now you can get two of my full length romantic comedy novels in a bargain box set! Yep, that's right! I've just released Fourteen Days Later and My Perfect Wedding in a handy double book set, saving all you fabulous readers $2 or £1.50!
Think Bridget Jones meets My Big Fat Greek Wedding...
DESCRIPTIONS
FOURTEEN DAYS LATER
Fourteen Days Later was short listed for the Harry Bowling Prize 2008 and received a Highly Commended by the Yeovil Literary Prize 2009.
When accident-prone Helen Grey finds a thong stuffed into the pocket of her boyfriend's best work trousers, it's time for her to move on. His excuse that he needed to dust the photocopier and just thought that it was a rag sounds like a lame excuse.
Helen's life is propelled in an unexpected direction after her best friend, Ayshe, sets her a fourteen-day, life-changing challenge. Helen receives a task everyday which she must complete without question. The tasks are designed to build her confidence and boost her self-esteem but all they seem to do is push her closer to Ayshe's brother, Kalem.
How will Kalem and Helen get together when she's too foolish to realize that she loves him? How can he fall for her when he is too busy falling prey to her mishaps and too in love with his own perfect girlfriend? How will Kalem's Turkish Cypriot family react when they find out?
Is it really possible to change your life in fourteen days?
MY PERFECT WEDDING
Helen Grey is finally getting everything she wants. She's about to have the perfect dream wedding and begin an exciting new life abroad on the sunny Mediterranean island of Cyprus. But living the dream isn't all it's cracked up to be.
After a mix-up at the airport, Helen finds herself drawn into the midst of an elaborate plot to steal an ancient statue and assassinate a local businessman. And as if that wasn't bad enough, her wedding dress is AWOL, the statue seems to be cursed, and Helen is wanted by the police.
With the big day rapidly approaching, a roller-coaster of mishaps, misunderstandings, and disasters threatens to turn the newlyweds into nearlyweds.
Can Helen prevent an assassination, save the statue, and have the perfect wedding? Or will the day to remember turn into one she'd rather forget?
WARNING! These books contains screwball comedy, quirky characters, and farcical situations...
PRAISE FOR FOURTEEN DAYS LATER and MY PERFECT WEDDING
"A hilarious romance! The storyline was entertaining and funny; the characters were unique, colorful,and relatable. I had a hard time putting this one down because I never knew what funny catastrophe or line would come next." The Cajun Book Lady
"This story was impossible for me to put down." Coffee Time Romance & More
"A very good read. Very enjoyable and fresh." Trisha Ashley, Novelist
"I loved this book. It is funny, witty and intriguing. If you are a fan of Sophie Kinsella I am positive you will love My Perfect Wedding by Sibel Hodge" Geeky Girl Books
"I uploaded this book on my Kindle this morning and was so engrossed, I let everything go for the day. A must read, you will enjoy" I'm Just Sayin...Book Reviews By KK
"In this laugh-out loud, real to the bone, commentary on what being married is like. I recommend this to anyone!" --Hot Gossip Hot Reviews
"My Perfect Wedding was entertaining and funny. The dialogue is sharp and witty, which had me laughing out loud at times. If you enjoy chick lit, this book is for you." Inky Impressions
"The fun never stops and you will find yourself laughing out loud at odd moments throughout the story. Ms. Hodge is rapidly becoming a favorite of mine." Coffee Time Romance & More
My Romantic comedy box set is available from Amazon.com, Amazon.co.uk, and Smashwords.
Happy Reading!
Sibel XX
In : Books
Tags:
"sibel hodge" "romantic comedy box set" "fourteen days later" "my perfect wedding"

Tweet
​
blog comments powered by

Disqus