I'm donating 20 % of the royalties from the sale of this book to two leading UK based anti-trafficking charities. The donations will be paid monthly and split between The Poppy Project and Unseen UK. The more sales, the more donations can be made!
UPDATE JAN 2016: The Poppy Project is now closed so the full % will be going to Unseen UK.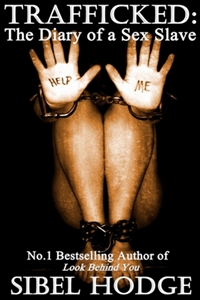 My name is Elena and I used to be a human being. Now I am a sex slave.
If you are reading this diary then I am either dead or I have managed to escape…
Trafficked: The Diary of a Sex Slave is a gritty, gripping, and tear-jerking novella, inspired by real victims' accounts and research into the sex trafficking underworld.
"20% of the royalties from the sale of this book will be donated to two leading UK based anti-trafficking charities: The Poppy Project and Unseen UK." - Sibel Hodge, Author
"Hodge took her readers to a rare journey that touches and break the hearts all at the same time through the eyes of Elena, the victim to whom the diary belongs. While reading, I could feel the victim's emotions pouring through; her sadness, frustration, anger and fear bundled into a giant seemingly endless burden. Hodge really did a great job in describing everything, no matter how explicit it was." - The Bornean Bookworm

"Although the subject is a devastating one this story is beautifully written by Hodge. Hodge does a wonderful job, she manages to take you on this gritty journey leaving you breathless at the end. I highly recommend this novel! It is extremely moving, you will not be disappointed." - Boekie's Book Reviews

"Heart wrenching and well written" - Can't Put It Down
About The Poppy Project
(from their website:)
"The Poppy Project was set up in 2003 to provide high-quality support, advocacy and accommodation to trafficked women; that is, women who have been brought into England or Wales to be exploited in some way. This could include but is not limited to sexual exploitation, labour exploitation, forced illicit activities and organ harvesting.Support workers work with women to create individual support plans for them, which can include financial help, support accessing health services and treatment, specialist counselling, criminal and immigration-related legal advice, education and employment opportunities and other support as needed.
We have nine bed spaces for women who need accommodation as part of their support, and can work on an outreach basis with women who don't need accommodation.Our workers are all experts in supporting trafficked women, and within the team we also have the following expertise:
A Young Women's worker, who specialises in supporting trafficked women between 16-24 years old;
A Family Reunification worker, who specialises in working with trafficked women who have children; and
A Detention Centres and Prisons worker, who can provide advocacy and support to women in those hard-to-reach situations.
The Poppy Project can accept women who are over 16 years of age and were trafficked into the UK, into the following areas of exploitation:
Prostitution and/or sexual exploitation;
Forced labour, including domestic servitude;
Forced illicit activities, such as cannabis farming, begging or pick pocketing; or
Organ harvesting."
About Unseen UK
(from their website:)
Women who are trafficked are disadvantaged by circumstances beyond their control. These women, who have normal dreams and ambitions, hopes of living a better life abroad, a desire to 'better themselves' or a need to financially support their children or family members, find themselves preyed upon and at the mercy of traffickers and criminals.
Women are often deceived as to the true nature of the work they will be doing and are subsequently exploited into slave-like conditions, deprived of their basic human rights, often trapped, violated and repeatedly abused – while their traffickers grow rich. Women are usually unable to escape, terrified of what may happen if they do. Traffickers use threats and violence to instil fear and make women believe their friends, family and children are at risk if they try to leave.
Our support provision project acts as the first stage on the long and difficult journey to restore survivors' self-esteem, build their confidence and eventually enable them to gain key skills to enhance their future independence.
Unseen runs secure accommodation for women of 18 years and over who are classified as survivors/victims of human trafficking for the purposes of sexual exploitation and domestic servitude.
The project allows women to access a range of services to assist them on this journey and includes access to:
Medical care and treatment
Counselling
Legal advice and assistance
Holistic therapy sessions
Education
Financial assistance
Immigration advice
Assistance to return home or to reside in the UK